All Aboard!
Rose Road have teamed up with South Western Railway to deliver 'All Aboard', a new project with a goal of making rail travel more accessible for profoundly disabled people and their families.

We'll be producing games, travel guides, and other resources that support people with accessing the rail network.

We hope to make resources available to over 300 families, and disseminate to an estimated 2,500 disabled rail users through press, local authorities, charities, universities and social media.

Project Information
'All Aboard' is a two year project that started in April 2020 and aims to break down barriers for disabled rail users and their families, and increase their confidence in using the train to access local destinations.

The project seeks to deliver resources that help young disabled people develop their independence skills and feel more engaged in the community.

We're driven by a steering committee who'll monitor our progress, provide constructive ideas, and help evaluate project resources.

Download Project Overview
Resources for Accessible Rail Travel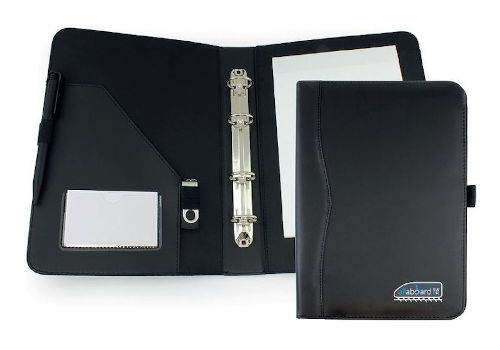 Travel Guides
Our easy-read travel guides will help young disabled people to identify local places they want to visit, understand the information available to them, and inspire confidence that their rail journey will be accessible.

Accessible Maps
We'll be working to develop easy-read travel maps that will accompany our travel guides.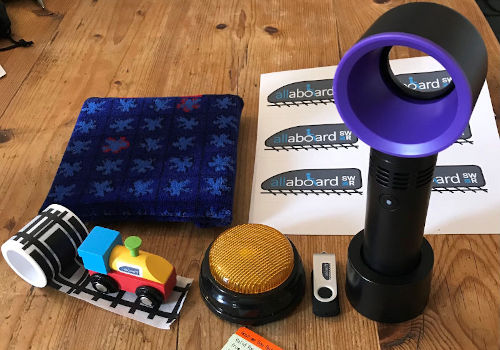 Sensory Story Sack
We've developed a sensory story about a train trip for younger disable people with songs, sensory experiences, choices to make, and fun props for play.

Learn About Rail Travel Through Play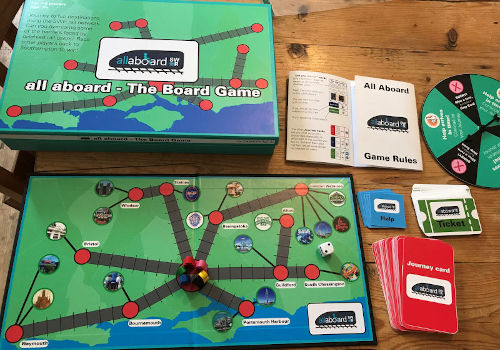 Play the 'All Aboard' Board Game
Can you overcome barriers faced by disabled people to visit each of the fun destinations on your tickets using the SWR rail network? Race other players back to Southampton to win!

Download Rulebook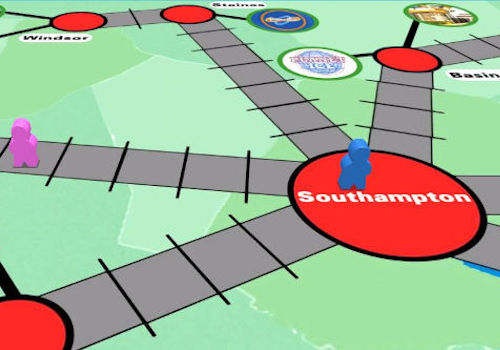 Challenge Friends Online
Find 'All Aboard ' on Tabletopia, a multi-platform environment for playing board games online with other people just like in real life!
Get the game on Steam, Google Play and the App Store.

Get Ready for Your Next Train Journey!
All you need to do is decide which station you're starting from, and where you'd like to visit.
We'll put together your personal travel guide for your journey, which contains:

Where to go when you reach the station.
What to do at the station and on the train.
An i-spy game to play.
Photo instructions to get to your destination.
A key facts sheet with trivia about where you're going.
You can also help us improve our travel guides and get some great freebies by becoming a Travel Ambassador.

Become a Travel Ambassador
We're seeking disabled young adults from across Southampton and Hampshire to help us test, evaluate and improve our travel guides.
As a Travel Ambassador, you'll be asked to complete easy-read visual feedback questionnaires asking you about your rail journey.
You'll get some great freebies to help you out, including a:

Clipboard
Bag
T-shirt
Water bottle
Lanyard
Radar key
To become an Ambassador, you just need to email our team with your details, and you'll be asked to fill out a monitoring pack during your journey which you can download below:

Download Monitoring Pack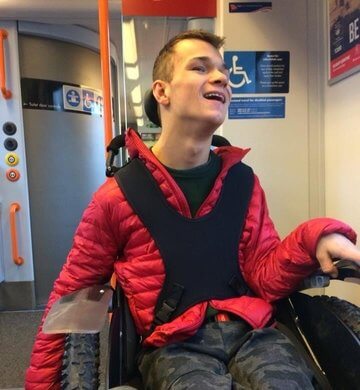 What's in my Monitoring Pack?
Travel Guide Checklist
You'll be supplied a checklist to tick off during your journey, including checks for specific impairments (ie. wheelchair users, hearing/sight impaired, challenging behaviour).

Parent/Carer Impact Baseline Assessment
Parents/Carers will be asked to complete a short survey before and after their journey, measuring their perception on issues like safety, helpfulness, people's attitude, and barriers to travelling by train.

Service User Experience Monitoring
Service users will be provided easy-read emoji questionnaires to complete during journeys, measuring changes in their levels of enjoyment, confidence, self-esteem and independence.

Project Findings
As 'All Aboard' makes progress we'll share our milestone reports, impact monitoring, and further information below.

Steering Committee Meetings
Agendas
Minutes