Jon's Easier Said Than Run
Back at the beginning of this year we were getting so excited (and feeling very busy!) with all the events coming up throughout the year. Quite a few of these were sporting events, including mass participation runs well known across the country, and huge fundraisers for charities. As a charity that needs to raise £500,000 every year to keep our services running, these events are so important.
Runners train for the whole year and use all the resources they have to help support them during their training and raise money for their chosen charity. But this year Jon Shephard decided that running only one marathon was simply not enough…. Jon pledged to run a whopping 250 miles across various events including his training. This is the same distance that would be covered if he did a loop of all our Rose Road families who live across the South of England.
Last year Jon ran the Great South Run and managed to raise over £900! Jon said "This year I wanted to raise more awareness of just how far Rose Road goes to provide services. Ideally, I would like to raise more than I did last year". The plan had started with running the Southampton Half Marathon in April and finished with the New Forest Marathon in September.
Due to so many big events getting cancelled this year, thousands of runners have had to change their plans and many have postponed to next year. But Jon has been pushing on!
He had been hoping for some good running weather but we had heavy April showers, and even some May showers too! Jon kept running on. Through June and July we have had rolling heat waves causing even the coolest of us to break a sweat. Still, Jon has been running.
As of this week, Jon now has only 34 miles left on his 250 mile challenge – and it is only July! Being the superhero that he is, Jon is going to continue accumulating miles up until the end of the New Forest Marathon in September. Currently Jon has raised £300 on his JustGiving page, but would absolutely love to raise £500, or even beat last year if possible!
Jon has worked at Rose Road for 5 years now and has been in his current role within central services for 2 years. Rose Road has been a part of Jon's life for even longer as his brother used to come to respite when we were still on Rose Road!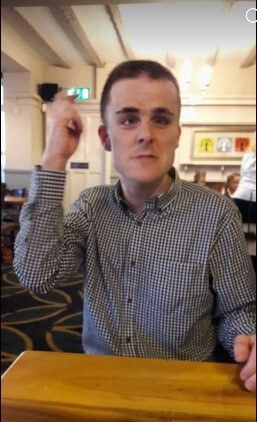 Read what Jon had to say about his brother, family life with disability, and Rose Road:

"This is Michael. He's 37 years old and he's my brother. He's profoundly deaf and blind in the right eye. He's non-verbal and communicates in a mixture of sign language made up of BSL, Makaton and gestures he's invented himself which can lead to some very interesting translation issues. Michael is pretty chilled. He lives in fully Supported Housing and enjoys trips to the Pub, very long baths and Ice Cream. However, growing up with him wasn't always such a laid back experience. Lack of communication and understanding could often lead to frustration both on Michael's part and ours. This obviously couldn't be helped but it meant that very often all of our energy had to be focused on Michael and meeting his needs for long periods of time, which often meant that as a family there wasn't much time for each other. My parents did the absolute best they could but sometimes growing up with Michael felt like growing up in an only child family and he was the only child. This wasn't anyone's fault, it was just how it had to be and we all understood that.
This is where Rose Road came in. When we first sent Michael to Rose Road for Respite, he was 4 years old and at the time it was still on Rose Road, above Mordaunt School (So for anyone familiar with the organisation's history this goes some way back). The first time he came home from Rose Road he clearly wasn't happy with us. He'd never spent time away from my parents and I, and for all he knew he wouldn't see us again. There was no way to explain to him that this was just for a weekend. It was a pretty big concern. However, we needed the break, and so did he. It had given my parents and I a chance to spend time together and actually fully relax. It also gave Michael a chance to take part in activities that were targeted specifically at him. So, with some trepidation about how he would react, we booked him in for a second weekend. This time when he returned he was equally as unhappy with us but it was because he'd enjoyed himself so much that he hadn't wanted to come home!
Over the following years his weekends at Rose Road were a regular event and they helped us out in some emergency situations too – One time we were due to go on a long planned family Holiday (which was a very rare occurrence) and the care we had booked for Michael fell through. Thankfully Rose Road were able to step in and help. But their care also went far beyond simple respite care. They were able to help us find Key Workers for Michael and even helped us to become part of the Family Link scheme where we made contact with another family that would care for Michael (& my parents became good friends with this family and are still in contact with them now).
It was a huge relief for us to know that Michael would always be well taken care of and enjoy himself and so could we. We made more of the time we had with each other and more of the time we spent with him. My parents got to spend more time together and I could do things like have friends stay over if I wanted (Something that's literally impossible when your sibling is up at 6 am on the weekends and happily clambers into bed with you to make sure you're awake too). So, while I myself have never stayed at Rose Road (except between the hours of 9-5 Monday to Friday) I've definitely benefited from the Respite and Playscheme services they provide and truly understand the difference it makes to families.
A donation to Rose Road isn't just going towards helping the children they take care of, it's helping their families too in ways that can't be measured in physical terms. Michael hasn't stayed at Rose Road in years but the help and services they provided have helped to make a lifetime of difference. Every day I see first-hand the effort that our workers put in to taking care of our service users but I also understand how the benefits of what we do go way beyond that too and so much of it is only made possible because people, like you, are willing to make donations to help make sure that the organisation can continue to provide the highest standard of care to young people and their families."
Jon is still running. Support him here.