All Aboard - Rose Road and South Western Railway's New Project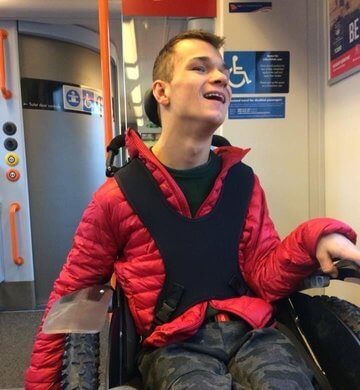 The Rose Road Association and South Western Railway are embarking on a new project which aims to make rail travel more accessible for profoundly disabled people and their families.
The two-year project "All Aboard" aims to break down barriers for disabled rail users and their families and increase their confidence in using the train to access local destinations. Disabled children and young people will have the opportunity to develop their independence skills and it will contribute to them, and their families feeling more engaged in the community.
The Department for Transport's "Research on Experiences of Disabled Rail Passengers" report (July 2019) identified that a lack of confidence in planning their rail journey had the biggest impact on disabled rail users. Other problems experienced included not being able to find enough accessible information and not being aware of the accessibility of stations and trains.
The project will address some of these challenges by developing, testing and publishing a set of easy read travel guides and maps to local destinations. These will help disabled children and young people to identify destinations that they want to visit, understand the choices and information available to them and inspire confidence in families that these rail journeys will be accessible.
Additionally, appropriate training for rail staff will be designed and delivered at local stations to ensure that staff have an even better understanding of profoundly disabled rail user's needs and how to communicate with them.
The Destination Travel project was awarded £119k from the Customer and Communities Improvement Fund (CCIF). The CCIF was established to help projects that support communities on the SWR network, address areas of social need and show a link to the railway.
Michael Adlington, SWR Accessibility and Inclusion Manager said:
"We know that disabled people generally have lower confidence in rail travel than non-disabled people and any initiative designed to increase their confidence in travelling as independently as possible is welcome.

Young people are our future and it's vitally important that we engage with them and build their trust and confidence as soon as they interact with us as customers. As part of our Accessible Travel Policy commitments, we are putting together a new, comprehensive Disability Awareness and Equality Training package for all colleagues at South Western Railway and this initiative by The Rose Road Association will complement and support our work to improve our colleagues' awareness of some disabled peoples' additional travel needs."
Juno Hollyhock, CEO of Rose Road said:
"We are delighted to be working with South Western Railways to enhance rail travel accessibility for disabled young people.
This ground-breaking project promises to be fun and fulfilling for the young people taking part and, we hope, will leave an extremely valuable legacy for all disabled people accessing rail travel.
Our participants are extremely keen to get started and we are looking forward to working with them and with SWR to broaden horizons and raise aspirations through increased confidence in independent travel."