Sasa Kitcher and Rose Road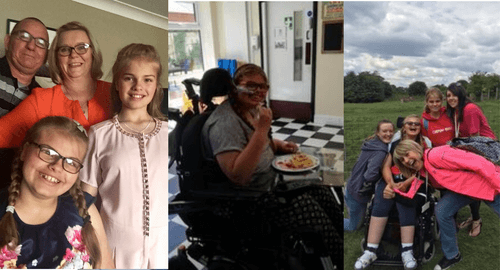 This is Sasa and her Mum Sarah, sister Bethany and some of their friends at Rose Road. Sasa absolutely adores music, espcecially Christmas music and she loves her doll which she always has with her. Sasa and her family have been using Rose Road's services since 2014 and across that time they have used overnight short breaks, outreach and playschemes. Sasa is 15 years old and has really complex needs. She has been with her Mum Sarah and Dad Neil since January 2006 when Sarah and Neil got the call that there were twins who needed a placement. At the time Sasa was in intensive care and was not expected to recover.
Sasa had experienced a non-accidental traumatic brain injury and had injuries consistent with shaken baby syndrome. Within a week Sasa and her sister Bethany had moved in with Sarah and Neil, and Sasa has been amazing everyone ever since. Her injuries are really complex but Sasa continues to defy the odds and shows us every day just how resilient she is.
"Sasa is a smiling and cheeky girl who has a wicked sense of humour, but she is in constant pain, and is dependant on myself and Neil for all of her daily needs. Sasa needs support throughout the night, every night, including being repositioned every two hours, and our days are filled up by the care and support Sasa requires. The one thing we never have is any time, time to just do really ordinary things that most people just take for granted. It's really hard to always know if we juggle meeting Sasa's needs and that of her sister Bethany, all we can do is our best, I do worry about that.
Rose Road gives us the time we so desperately need. Without Rose Road I'm not sure we would still be together as a family. When things have got particularly tough in the past it has been Rose Road who has been there to scoop us up. They have cared for Sasa in respite and given us time to reset – time to sleep, eat, have a bath and sometimes a little cry! They are always the people we turn to when we really need help, it only ever takes a phone call or a text and they are there for us.
During the COVID-19 pandemic this support has been more important than ever. It became tough really quickly without schooling or regular personal care, and Sasa really struggled without her routines. We're so glad that Sasa has been able to come to Rose Road throughout, they have amazed us with the way they have coped and put everything in place to keep Sasa safe whilst she is with them.
Sadly we lost my Mum in the middle of COVID and again it was Rose Road who cared for Sasa so we could say goodbye without worrying about the effects that would have on Sasa. We could honestly never really put into words what having Rose Road support means to us, they are a really special service, thank you Rose Road." – Sarah, Sasa's Mum