The Amazing Bruce Takes On 2021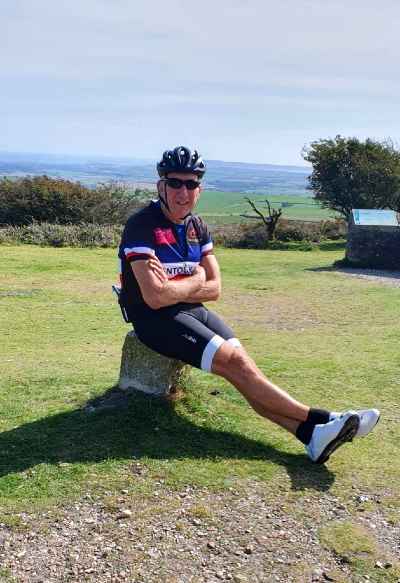 Bruce Elkins is known in the Rose Road fundraising office as 'Amazing Bruce'. The Aztecs Partner and our Ambassador has taken on many challenges for Rose Road and never fails to surprise and astound us with his amazing ideas and fundraising accomplishments.
Over the last 10 years Bruce has taken on just about any physical challenge he can come up including triathlons, marathons and cycling challenges along with the help from his Rose-Roadies group and others within the Azets (previously Wilkins Kennedy) company. This year Amazing Bruce is doing yet another unimaginable challenge in aid of our Rose Road families.
Following his garden challenge fundraising during the first Lockdown in 2020, Bruce has upped the game, and set the target of completing 300 sit ups and 250 press ups every single day in January. This was ON TOP of his usual three cycles a week!
Of course, Amazing Bruce not only completed this mammoth task but has decided to extend his goal and continue for the rest of 2021!
Bruce said this about his challenge: "During 2020 I built up a regime on the back of working from home to help keep my usual positive focus to life but found this more difficult going into the Winter lockdown.
With no gyms re-opening soon, I embarked upon a gradual increase in home stretching exercises but also core strength improvement to the extent I set a target of at least 300 sit ups and 250 press ups every day of January which has been accomplished. I then thought why don't I now continue this regime throughout 2021 and raise some money for Rose Road."
At the end of the year Bruce will have completed 110,000 sit ups and 90,000 press ups!
The challenge has been set to raise money for the Rose Road Association as Bruce invites others to join his campaign and take on their own personal goals while encouraging positivity and well-being.
Bruce (because he is so amazing) has offered to the first 60 that join him in taking on their own challenge this year to donate the first £25 to the fundraising pages in aid of Rose Road.
People's mental and physical health has become more important than ever over the last year and working towards your own goal can make a real difference to both. Bruce says "For those of you that struggle with formal exercise I would say that the power of positive thought and just some good fresh air every day certainly helps as well as the great feeling of helping others in need can help." So, whatever the challenge might be for you, make it happen and join Bruce this year to spread some good.
If you would like to take on your own challenge for Rose Road and follow in Bruce's footsteps by improving your well-being and raising money for a local Southampton charity supporting young people with disabilities and the families, get in touch with the fundraising team today.
Contact the Rose Road Fundraising Team by Email Us or call us on 02380 721202.
If you would like to support Bruce with his mission and are able to make a donation please visit the fundraising page HERE.
Bruce, you are amazing.