Mandy, Brian & Owen's Story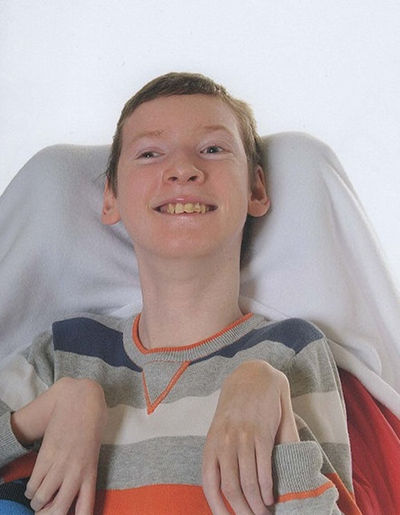 We are Mandy and Brian Kendall, parents of Owen Daniel Kendall. Owen attended Rose Road as a client on a monthly basis for respite care, although for Owen it was very much like having a monthly holiday.

Owen was our son and we were adamant that we were going to take care of him and felt that we as a family did not need any assistance with this task. But given the level of care that he required after eighteen years, we decided with a degree of reluctance that we needed some help, and we were offered a place at Rose Road. Owen's introduction to Rose Road was intended to be gradual but due to family illness his first stay was very sudden. Any concerns we had rapidly evaporated, Owen loved it and came home with a big smile on his face. All his subsequent visits were very much anticipated, both by him and by us as it allowed us to plan things for when he was away, safe in the knowledge that he was safe and enjoying himself.

To decide on a single aspect of Rose Road as our favourite is a difficult choice to make, it could be that Owen had his own room when he visited and was able to have his favourite things from home. Or the possibility of having a double room to share with a friend, so the visit felt like he was having a "sleep- over". It might be the many activities that he was able to do, from just watching videos and the TV in his own room or mixing with the other attendees in the communal areas to take part in joint activities. Or we also liked the outings he was able to go on, be it just out for a walk to the local shops or to go out to local places for a visit. But the aspect of Rose Road which is our most favourite is the staff who are always friendly and helpful. From the bus drivers who collected and returned Owen to all the carers who cared for him during his visits, Owen was always so pleased and very excited to see them.

When Owen first started to visit Rose Road the only time he had been away from the family was when he was at school, which he started to attend from the age of two. At the age of seventeen visiting somewhere without us filled us with a degree of concern especially as Owen had been quite wary of strangers in the past. But our worries were misplaced, it was almost as if he had matured and become a young man overnight. Future visits saw him build with excitement and expectation as we packed his bag, and the disappointment he would show if on the odd occasions it was necessary for us to take him and not have the minibus pick him up. Rose Road was his place and we were not needed.

The thing that makes us the proudest and happiest of all is that Owen was able to visit Rose Road one last time and that he saw all his friends and carers before becoming very ill. Rose Road played a big part in making Owen's last day's fun and exciting and for that we shall be forever grateful.
Help us to continue the story, make a regular donation or become a volunteer and help make a difference to a disabled child and their family.
If you enjoyed this story, why not also try: