Tim, Katie & Isabel's Story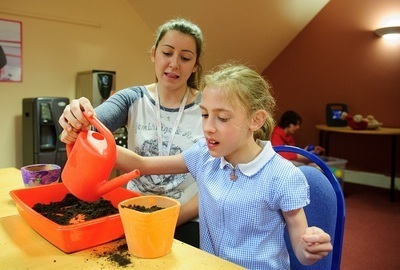 My name is Tim and along with being on the board of Trustees at Rose Road, I am also a parent to Isabel who has been coming to Rose Road since 2010, attending after-school clubs, holiday clubs and respite stays.

My wife Katie and I look upon Rose Road as our extended family: it's hard to over-estimate just how much we value it. The level of care and love that is provided to Isabel is so special. Before Isabel started coming to Rose Road we had very little support and, frankly, we were thoroughly exhausted. Isabel's time at Rose Road enables us to have a break but, more importantly, it enables us to spend time with our other two daughters who often miss out to the demands of Isabel's special needs.

As well as being a Trustee we've also been involved as a family in raising money to support Rose Road. In 2014 Katie and I ran the London Marathon, and I'm hoping to do so again next year. Getting involved is our opportunity to say thank you to Rose Road for all their support of our family and for other local children.
Help us to continue the story, make a regular donation or become a volunteer and help make a difference to a disabled child and their family.
If you enjoyed this story, why not also try: