Tracey & Zack's Story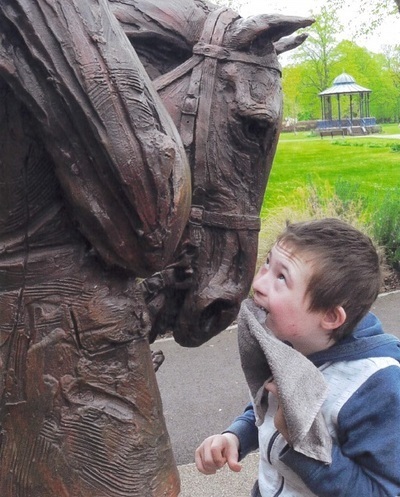 My name is Tracey and I'm mum to Zack who is 11 and has Down Syndrome along with learning disabilities. Zack has been coming to Rose Road for around 4 years.

We first came to Rose Road when we were having a difficult time after Zack had his tonsils, adenoids out and grommets were fitted.

Over a period of 6 months before the grommets were removed, Zack's behaviour dramatically changed and he wasn't sleeping which meant none of us were sleeping. I often ended up driving him round in the early hours of the morning just to try and get him some sleep and let my husband and daughter sleep. When Zack went to school, I would come back home and try to catch up on my own sleep. It was affecting Zack's older sister who was at school and my husband who was trying to hold down a full time job while feeling utterly exhausted. I came to Rose Road and I spoke to Tina. I told her what was going on and said to her that no one was helping us and we just needed a break.

Zack now gets charity trust nights at Rose Road which are funded through fundraising and it has made a big difference to us all as a family.

The nights Zack stays at Rose Road give us the chance to have a conversation, sort out paperwork or even just sit down to help our daughter with her homework. We can't always easily do these things as Zack constantly demands our attention. When it comes to night time we're up and down trying to get him to sleep. Our friends don't understand I don't get to watch any prime time TV at all. Sometimes I just want to be able to watch a film or programme I've recorded.

Zack is non-verbal and we don't know many other children who he can play with. He doesn't have other children coming round to play or for sleepovers like his sister does. So it can be quite isolating for him and us as a family.

We don't get asked out to places in the holidays as a family and going on holiday can involve a lot of planning ahead.

He really likes it at Rose Road and since his last few visits, he's interacted more with some of the children who stay there, sharing a toy with them or just going up to them and placing a hand on theirs.

He has gained more confidence and his face lights up when we sign to him in Makaton that he is going to Rose Road. He smiles and signs "yes, yes, yes" back to us.

We are very grateful to Rose Road Association for these respite breaks and try to help fundraise for them whenever possible by attending events and supporting the charity.
Help us to continue the story, make a regular donation or become a volunteer and help make a difference to a disabled child and their family.
If you enjoyed this story, why not also try: