Neil and Sarah's story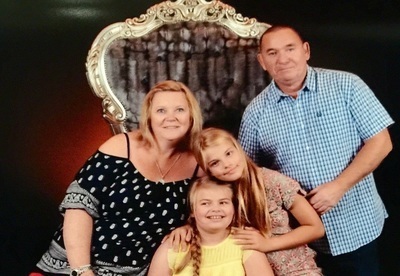 We are Neil & Sarah, parents of twin girls called Bethany & Sasa. The girls are now 11 years old, Sasa has been coming to Rose Road for 3 years, Bethany for the last year.

We also do as much as we can to help fundraising and to highlight the work the Association does. I recently got the whole of Lyndhurst high street to take Rose Road on as our designated charity. Rose Road has enhanced our lives very dramatically, when you have a child that needs 24/7 care the one thing you don't have is time. Support from Rose Road has given us the time to do normal day to day things and helped our family stay together.

The support & friendships from the staff we've met has made such a difference to all of us, not just the children. They know when you've had a tough day, you don't have to explain, they just get it.

Our favourite thing about Rose Road is the people in it. Without the team it would be just a building, they are the heart that keeps it beating and being able to support families like ours. Handing over a child with complex needs is a daunting experience, Rose Road make that easy. They get to know your child and you so everyone is comfortable and happy. There simply no words to say that would explain how much of a difference the team at Rose Road make to us as a whole family.

To be part of Rose Road makes us feel proud, as it's such a fantastic, amazing place. Children come knowing there's going to be lots of love and more so, lots of fun. It's an invaluable gift that enables us to keep going.
Help us to continue the story, make a regular donation or become a volunteer and help make a difference to a disabled child and their family.
If you enjoyed this story, why not also try: