Silvie and Tom's story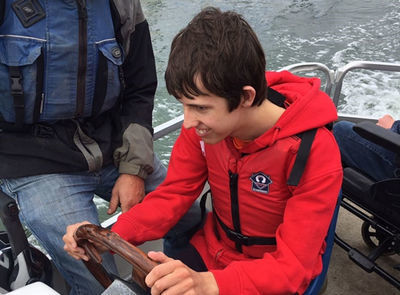 My name is Silvie and my son Tom has autism. Tom has been having respite at Rose Road since 2006, when he was just 8 years old.

Initially the whole family was unsure that this was a good move for any of us! My first dates came through and I was given three consecutive nights and I was horrified, how could I send my boy away for three nights! So I telephoned and said just one for now please as I needed time to come to terms with the guilt I felt. How wrong we were, Tom was so cared for and supported and looked so happy when he came home that any fears or guilt quite quickly dissolved.

Tom is now 18 and has spent many lovely days at the Bradbury Centre, sometimes up to ten days at times so the family can take a holiday. I also feel that Tom has a holiday at the centre as the staff make sure that all his needs are catered for. He has his own room with a wall mounted TV/DVD, his diet catered for, access to soft play, sensory room and pool as well as going on outings. The staff always happy for me to ring in daily for an update as well!

Tina and all staff are always on hand to help if there is a crisis within the family and we often ring to tweak our dates as there always is some event that I forgot about.

We have also accessed Play PM, Playschemes and Outreach and all the staff are lovely people. I can honestly say that Rose Road is a beacon, my rock for the last 11 years and hopefully many more to come.
Help us to continue the story, make a regular donation or become a volunteer and help make a difference to a disabled child and their family.
If you enjoyed this story, why not also try: